Circular Volume Control Damper
Download pdf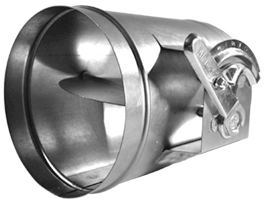 Model:
ATVCD-R

Model:
ATVCD-RF
Characteristics
The Volume control dampers of AirTech Model ATVCD-R series manufactured as per DW144/SMACNA standards are used in ducts at the connections between flexible ducts and in the inlets and outlets of air plenums to regulate air flow and pressure. The regulating blade is mounted on a pivot seated in GI housing. Frame is constructed from galvanised steel sheet with joints welded and protected.
---
Specifications
| | |
| --- | --- |
| Frame | 0.80mm / 1.0 mm Thick Galvanised Metal |
| Brushings | High quality nylon bushings |
| Connecting Rods | 10mm Galvanised Rod |
| Quadrant | Galvanised sheet metal quadrant with hand locking device and blade position indicator |
---
Construction details
Frame is constructed from Galvanised sheets with joints welded and protected by coating of zinc rich aluminium paint. The Damper Blade is fixed on galvanised MS rod and can be rotated in vertical to open or closed position. The quadrant with blade position indication helps to position the blades accurately from outside. For complete air sealing at closed position high quality gaskets are provided.
These dampers are designed to be used in heating, ventilating and air conditioning systems.
The dampers are also available in Stainless steel construction on request.
---
Standard Sizes
| | | | | | |
| --- | --- | --- | --- | --- | --- |
| 100mm | 150mm | 200mm | 250mm | 300mm | 350mm |
| 400mm | 450mm | 500mm | 550mm | 600mm | |
Dimensions

| | | |
| --- | --- | --- |
| Diameter (D) | Length (L) | C |
| Up to 150mm | 200mm | 25mm |
| Above 150mm | D + 50mm | |
---
Pressure Drop / Velocity Graph