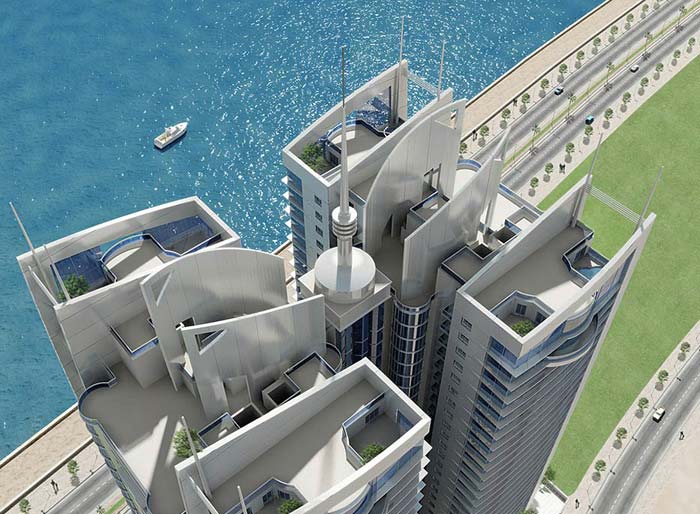 Fontana Tower
---
The Fontana Towers is a luxury condominium by the sea front located in Juffair, Bahrain. The building consists of 2 high rise towers, both 29 stories high and 400 apartments.Designed by Arif Sadiq Design consultants, the projected was conceived in the year 2007 and now in its completion stage.
AirTech was awarded the complete installation and commissioning of HVAC ducting system with light weight pre-insulated panel ducts for floors and Galvanised duct works risers and exhaust systems.
Air Tech scope of work consists of :
Fabricate, supply and installation of Pre-insulated duct works and Galvanised steel Duct works as per the DW144 standards for a total 1,875 TR capacity units.
The Total area of Ducting to be fabricated, supplied and installed was 22,000 Sq Mtrs consisting of 18,000 Sq Mtrs of Pre-insulated duct works and 4,000 Sq Mtrs of GI duct works.
In the FCU/AHU/Exhaust ducting line we have installed approximately 3,000 units of in line accessories such as Volume Control Dampers, Fire/Smoke Dampers, VAVs, Access Doors etc.
Installation of approximately 600 square air outlets.
Installation of approximately 300 Linear meters of Slot air Outlets.
The project was commenced in the year 2009 is in progress and expected handover is the end of the 2010.